Asheville Balloon Company, I Love to Fly LLC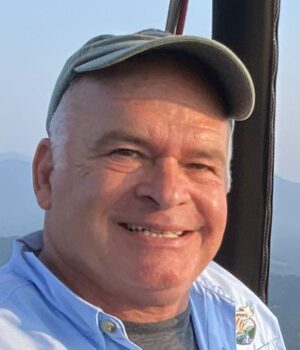 Asheville Balloon Company, I Love to Fly LLC is owned and operated by Tom Mackie. Tom has been a pilot since 1980 and has accumulated vast experience in aviation. He is an FAA-certified commercial balloon pilot.
When Tom is not giving balloon rides, he works as a Boeing 767 Captain for a major airline. Tom has been a Certified Flight Instructor in airplanes for over 30 years and is licensed to teach Instrument flying, multi-engine, and gliders. Tom is also licensed to fly helicopters.
"Flying has always been a part of my life". Tom started out flying in high school and went on to be a career Airline Pilot. After flying as a Flight Instructor through college, Tom flew freight for a cargo operator in Texas. Then, later as a commuter airline pilot, where he was a captain on various turboprop aircraft for over 7 years. In 1996, Tom became a pilot for a major airline and has been flying international routes since then.
Tom says, "People who know me, know that I love to fly. I am just as comfortable off the ground as I am on the ground. I've always had a fascination with flying. My job as an international commercial pilot is a big part of my flying experience. I view ballooning as the fine art of flying and I love to attend balloon rallies and have gas ballooning experiences."
Tom made his first balloon flight in Hammond Louisiana back in 1987 and has ever since been attracted to the adventure of ballooning. As well as a Hot Air Balloon Pilot, Tom has become rated as a Gas Balloon Pilot after training in Germany with one of the world's most famous gas balloonists, Wilheim Eimers.
Danny Smith - Balloonist
I have been flying balloons for 30+ years. I got my student pilot certificate when I was 14 years old. I owned a commercial ride business/FAA-certified balloon repair station for 17 years. I have been lucky enough to get to do ballooning all over the world. From flying hot air balloons across the Alps to flying hydrogen gas balloons across Germany to flying with 500+ balloons across Albuquerque, New Mexico. Even with these places I have flown, it is hard to beat the scenery flying in the mountains here in Western North Carolina. I love getting to share my passion for ballooning with everyone I can!
Louise Egerton - Balloonist
I have been flying balloons for 32 years. The first balloon event I attended was at Freedom Weekend Aloft in Greenville SC in 1986. My husband and I started crewing for local balloon ride businesses and bartered our services toward flying lessons. I have had a commercial balloon rating since 1989. I have traveled to several events including Balloon Fiesta & Festival del Globo. Sharing the joy of drifting above the trees and the scenery in WNC is one of my happiest places.
Jim Barnett - Balloonist
I got hooked on ballooning many years ago when I saw a brochure and said, "Hey dad, you want to go for a flight?" So, he got a birthday gift, and I got a new avocation. I love everything about ballooning;  flying, photography, crewing, meeting new people, socializing with old friends. It is terrific.

Asheville Balloon Company – Ground Crew Extrodianare